Historically, steam-pipe heating has been used more frequently than any other type of pipe heating for .freezing and heating
Steam usually has the advantage of having a high heat capacity combined with a suitable heat transfer
coefficient. When energy costs were negligible and steam was seen as "free of costs," this was the usual
.method of conducting heating escorts for piping and containers When flowing through a pipe, the vapor dissipates, their capped heat being transferred to the process pipe to compensate for the heat loss through the insulation. During this process steam temperature remains constant. However, further down the line, the condensation process of the steam begins and gradually the amount of condensation water increases. The condensation temperature and heat capacity are significantly lower compared to steam and poor heat conduction capacity. This process occurs gradually and throughout the entire length of the heating pipe. Therefore, it is necessary to install a steam trap at the end of a heating circuit The role of the "steam trap" is to discharge the condensation water with minimal loss of fresh steam.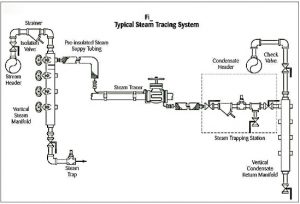 Because the condensation water in the heating pipe needs to be "pushed" into the steam trap (often upwards), the steam system must be of sufficient pressure, which limits the maximum length of heating circuits. Too long heating circuits tend to "drown" in condensation water from time to time, the system becomes very unexpected and very unstable which adds complexity to a steam heating system. A similar phenomenon is also called for in reasonable length heating circuits, but the decrease in ambient temperature results in greater heat losses and therefore in the production of condensation water in .larger quantities
Another problem with steam heating is the temperature unevenness along the steam cycle, at the beginning of the heating cycle high temperature steam enters and as the steam is removed its heat to the process piping has constant steam temperature drop processes and then steam and condensation
water so that most of the temperature is immediately too high and high at the beginning of the cycle.
.Leading to unnecessary loss of energy and shortening of heating circuits The result of the above symptoms is short circuits the heater, use instead of expensive area of the
.process for the purpose of distribution of steam, steam traps and infrastructure collection condensation Steam Traps are most critical to heating with steam and at the same time sensitive component of the .system
Because of the way the work of a steam trap system Mechanical with moving parts subject to constant
abrasion by steam and suffering from obstructions due to the quality of steam, the system is subject to
preventive maintenance and fracture maintenance at high level and quantity, in order to maintain proper
operation a maintenance check is required at least once a year and a significant number of steam traps
.(replacement (on average approximately 6% of traps per year
Often, high energy waste is present in steam heating systems. Steam, which continues to flow at a constant temperature regardless of the material temperature in the pipeline, will continue to transfer energy beyond the material demand and cause a temperature rise of the material in the pipeline in the
.event of a pipe failure and unnecessary waste of energy To date, there is no reliable method to control the temperature of the pipe and energy invested in heating, in addition, even in perfect working conditions, even in the best traps of steam, there will always be partial loss of steam. If the traps fail and stay open, there will be a significant amount of
.steam loss mainly because these systems operate 24/7 Another common failure of steam heating systems is due to steam leaks from the heating pipe mainly at connection points between the pipes, these leaks cause the insulation to become wet and thus loss of all thermal insulation properties and the resulting output is in fact an increased heat loss to the pipeline .process and instead of heating the piping it cools